Posted on: 8 - 7 - 2022
The Petrel Head Story
Light, be it natural or artificial, has an impact on all species, humans and wildlife alike. For many years across the world ecologists, scientists and wildlife conservationists have been closely observing the impact of light on a variety of species, in particular birds, including the impact on their mortality.
Nocturnal birds, such as the Westland petrel (tāiko, Procellaria westlandica), are particularly vulnerable due to the rise in artificial light and impact of humans and predators in their single breeding location between Barrytown and Punakaiki on the West Coast of New Zealand's South Island.
WHAT IS A WESTLAND PETREL?
The Westland petrel is the last remaining species of burrowing bird still breeding in mainland New Zealand. The 6-week incubation period of a petrel is monotonous for both parents as it is a continuous process prior to the successful hatching of the chick. Once hatched, the nest is constantly guarded for up to 6 weeks by one or both parents, providing protection from predators during this extremely vulnerable time. Westland petrels are mostly nocturnal on land, returning to their breeding colonies at dusk, and can be seen rafting (gathering together) in preparation to land along the coast adjacent to the sole breeding colony at Punakaiki. Most birds leave the colony before dawn.
Between November and January many fledglings leave their burrows in Punakaiki to embark on an 11,000km trip across the Pacific to South America. Here in is where the navigation of the birds has been compromised by one particular factor, man-made light (competing with the moon, sun and stars) which has caused the birds to disorientate, circulate and crash.
This "fallout" has meant that the creatures have been injured, struck down by vehicles, or taken by predators.
AND SO, PETREL HEAD WAS BORN…
Mike Geddis, our National Outdoor Lighting Specialist, bought this issue to the attention of the Energylight Team. He mentioned…
"Sometimes in life an opportunity to right a wrong, presents you with a chance to stand up and make a difference. In this case, our voice is for the native Westland petrel/tāiko who are adversely affected by artificial light at night is this very opportunity…Located in the majestic region of Punakaiki, a place of special meaning for my family and me, the survival of the Westland petrel/tāiko has great significance as these birds are the last remnant of a unique ecosystem…"
As you may be aware, we are a creative team and decided to take this story with a powerful message of the Westland petrel and create our latest range of craft beers. Collaborating with Three Boys the designs have been under lock and key, but here is your first look at the final design for our most meaningful drop to date.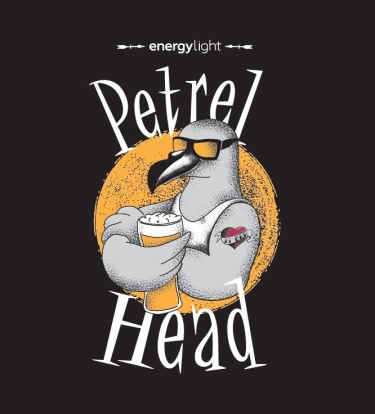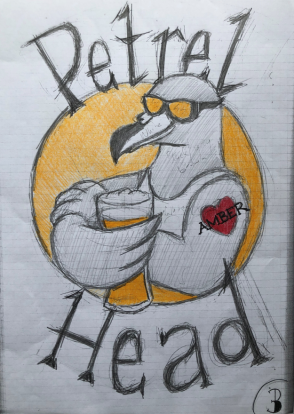 The artwork was the brainchild of our Creative Director Mark Jansen, whilst the term for the brew 'Petrel Head' was coined by a social encounter with Mike and landscape architect Matt Lester over a few beers (funny that). "Funny what you come up with after an evening of Energylight hospitality" Lester said. The evening's banter included a passionate discussion on saving the birdlife at Mike's family's bach and a new release of beers.
As part of the release, we would like to encourage you all to learn about the Westland petrel and support the great work the South Island's conservation teams are contributing to the well-being of these majestic birds. The team was fortunate enough to enjoy one of these educational colony tours).
Spreading our wings, we have also adapted the design for t-shirts and coasters. Join us on social media for the release of the merchandise and go into the draw to win your very own.
As lighting specialists, we work closely with clients across a variety of projects both indoor and outdoor. The beauty of today's day and age is that science, engineering, and manufacturing have developed alternative lighting purposed to work in harmony with native ecology of New Zealand. If you would like to chat regarding an outdoor project, we are here to help. Contact us today.
The beers will be stocked at Energylight. For those who are lucky enough to enjoy this smooth amber drop, we ask that you spare a thought for the Westland petrel/tāiko and be reassured that here at Energylight we are campaigning for an improved lighting environment. We can make a difference.
Energylight will be donating $1 from every Petrel Head beer manufactured along with $1 from every EWO pole top system to support conservation groups actively preserving the lives of the Westland petrels.
Resources:
Nzbirdsonline.org.nz
Stuff.co.nz
Back to Blog